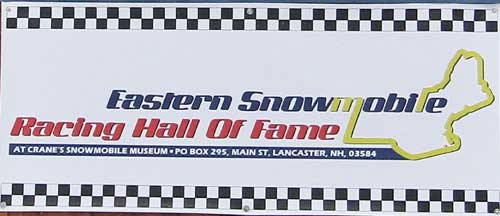 The Eastern Snowmobile Racing Hall of Fame Inductee Ceremony
The Eastern Snowmobile Racing Hall of Fame is a non-profit organization originated by Paul T. Crane, who along with its board members on May 20th of 2017 at Crane's Snowmobile Museum, began to recognize our first generation eastern snowmobile racers. Those original "Warriors of Winter," the ones who started it all.
The first chapter of the history of snowmobile racing was written right here in Lancaster, New Hampshire, the town that introduced the revolutionary Bombardier Ski-doo to America in December of 1959.
It was here, that the very first organized race was held in February of 1962! The Lancaster Grand Prix, with it's famous Kilkenny Cup, was considered the biggest, most prestigious in eastern racing during the golden era! A more fitting town could not be considered for an eastern snowmobile hall of fame than Lancaster, nor a better place within which to house it than Paul T. Crane's museum.
VIEW PAST YEAR'S INDUCTEES 2017-2021
The 2022 Inductee Ceremony is Saturday, September 10th at 1:30 pm at the Museum in an outside ceremony. Please join us to honor these racing legends.
2022 Inductees to The Eastern Snowmobile Racing Hall of Fame: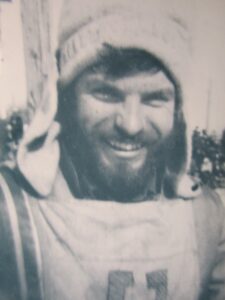 James "Jim" Sul
Jim first began racking up wins in 1967, racing Sno-Jets for a local Pennsylvania dealer, who then offered him a ride on a 650 Sno-Jet "Honker" at a race in Orchard Park, NY. He was leading the race when he fell off. Gathering himself up, Young Sul jumped back on, caught the pack and won the race!
After a few successful seasons of racing Sno-Jets, Sul was offered to race the Polaris brand. He so dominated Pennsylvania and New York snowmobile racing on his TX machines that the fans nicknamed him,"The Flying Farmer!"
During the first race of 1970/71 season, Jim Sul took first place, in Mod I, Mod II, Mod IV and took 2nd in Mod V at Monticello, NY!
At Honedale, PA, Sul won Mod II, Mod III! In the Mod V event, Jim nearly lapped the field and won going away! He won every race he entered at Corry, PA., taking firsts in Mod I, Mod II, Mod IV and Mod V!
Jim won both the Pennsylvania State Championship in Honesdale and the New York State Championship in Boonville! He amassed a point total for the season of 318, more than doubling the second place point total of 150!
Jim Sul was presented with the USSA "Driver of the Year" trophy by none other than Bob Eastman! On a side note; His racing budget for the entire 1970/71 season was $5,000.00. Today's racers could not even build a competitive engine for that!
Sul had what can only be described as one of the most incredible seasons in USSA History, winning a total of 25 times, finishing 2nd dozens of times and 3rd only once!
In 1973, He outdistanced 170 drivers to win his second Chatauqua Cup, in Mayville, NY! Jim Sul raced until 1976. Came out of retirement in 1994 winning several more races on Sno-Jets and Arctic Cats. He retired again in 2006 at age 60, amid cheers of relief from his much younger competitors!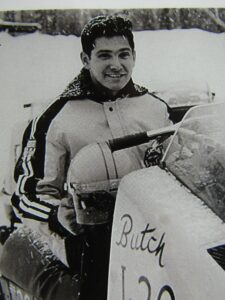 Anthony "Butch" Consolini
With much early success as an independent racer, Butch began racing in 1968 for the Tri-State Power Sled Team, a Ski-doo distributor from Lee, Massachusetts.
After making a name for himself in some of the smaller races around the state, Consolini's breakout moment came at the 1970 Massachusetts' State Championship where he took 3rd in "B" Stock, 1st in Mod I and 1st in Mod II making him the overall winner for the prestigious, "Governor's Cup!"
Butch grabbed the 1st place win in Mod I at the 1970 "High Chaparral Races" in East Jewett, NY, and kept up his winning ways by winning Mod I in both the Oval and the Cross Country tying him with Bob Martin for most points at Laconia International, in Loudon, NH!
For 1970 he wound up 3rd in points for the Eastern Division in USSA!
In 1971, Butch was unbeaten in Mod I at Plainville, CT!
At West Springfield Mass. Consolini lead the way in Mod I and grabbed a 3rd in Mod II!He took 1st place in Mod I and 3rd in Mod II at Montecello,NY!
With a 2nd place finish in Mod I at Bangor, ME; Butch continues his winning ways by garnering 1st place in Thompson, CT! After a 2nd place finish in Mod I at Barre VT, Consolini tied with Timberland Machines Team Captain Bob Fortin for "Top Points" in Mod I, in the Eastern Division of USSA, with 78!
Driving the new 295 and 340 three cylinder Blizzards, Butch raced to five consecutive wins in Mod I! 1st at Canton, CT; 1st at Scarborough, ME; 1st at Bangor, ME; 1st in both Mod I & Mod II at Lancaster, grabbing a Kilkenny Cup and 1st in both Mod I & Mod II at North Hampton, MA!
Anthony Consolini was a force to be reckoned with in the Mod I & Mod II Classes. He was #1 in points for the 1972 season in the USSA Eastern Division with 1812. Due to canceled events of a warm 1973 winter, he still wound up #1 in points again in Mod I with 1315, including a Mod I win at the Penn State Championship! Butch held the "Top Points" total three years in a row in Mod I, competing in a class that totaled thousands of active drivers! He wore Gold Bibs #20, #12 & #6 during his totally dominating career!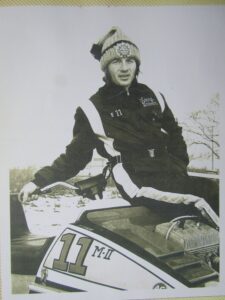 Lawrence "Larry" Buerman
Larry was the first eastern snowmobile racer to earn USSA's #1 Gold Bib for the 1970 season by winning more races than any other driver in 1968/69!
In 1970, Larry won the New York State Championship, along with the Adirondack Cup and he also won the Pennsylvania State Championship!
While racing Ski-doo in the 1972 World Series in Ironwood, MI Beurman won all heat races and semi-finals in Mod IV but he unfortunately hit the wall in the feature. In Mod V his choke stuck on one cylinder during the feature, but Larry still came in 3rd! Grabbing 5th in points for the
Eastern Division in Mod V, earned him Gold Bib #11!
Beurman was high points man for both 1972 & 1973 seasons at the Weedsport Speedway, in Weedsport, NY!
Larry cleaned house at Coudersport, PA in 1973 by winning in Mod II, Mod IV, Mod V & 340 Stock! He went home with over $4,000 and still holds the average speed record on this half mile track in Mod IV & Mod V!
For the 1972/73 season Larry Buerman made history again by becoming the very first racer to earn two #1 Gold Bibs and is only the 2nd person to do so, by taking high points in Mod II, Mod IV, and 5th in Mod V!
Larry was offered a spot as driver for the Alouette factory team by Gilles Villeneuve in 1974, but he decided instead to become a USSA race director, which he was for 1974 & 75.
Larry Buerman raced for Costich Ski-doo, Dufranes Moto-ski and Elliot & Hutchins Ski-doo, all New York Distributors.
He was regarded as, "The Man to Beat" by his many competitors during the Golden Era of Snowmobile Racing!
Ronald "Ronnie" Ouimet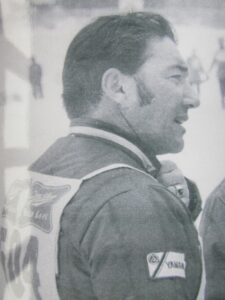 Ronnie Ouimet owns one of the nation's oldest snowmobile dealerships, established in1965 with Moto-ski and he won the very first Adirondack Cup in 1966 on this famous brand!
As a new Ski-doo dealer, while racing out west for Tri-State Distributors in 1968, it was here that Ron was introduced to a prototype of a Yamaha snowmobile! Yamaha invited him to try two of their prototypes on snow back in Massachusetts, however, after he gave them a failing grade for very poor snow flotation, Ron was then commissioned by Yamaha to use his parent company, H&R Machine to redesign the problem! His store became the first Yamaha snowmobile dealership in New England in 1969!
Ronnie grabbed 2nd in Stock "C," 2nd in Mod II, 1st in Mod III and 2nd in Mod IV at the Bershire Hills Championship, in Pittsfield, MA. and won Stock "D" at the Massachusetts State Championship in 1969!
Now racing for the Yamaha factory team during the 1970/71 season, Ronnie took a 1st place trophy in Mod V at Scarborough ME., 2nd place finishes both in Mod III & Mod IV at the Eagle River World Championships! He also won the 440-B Main at the West Yellowstone Roundup!
During the 1971/72 season Ron won Mod I at West Yellowstone, took another 1st in Mod V at Scarborough ME! Ronnie's racing skills and mechanical expertise provided him with many 1st & 2nd place finishes during the 1973 to 1975 seasons earning him a #6 Gold Bib in professional snowmobile racing!
He took two seasons off to work at H&R Machine, making pipes for the Brutanza snowmobile company, as well as many parts for several top racing teams!
But it was in 1978 at 42 years old, when Ronnie showed us he still had it, by winning in both Super Stock III and Mod III at Troy, NH on his beloved Yamaha!
Timothy White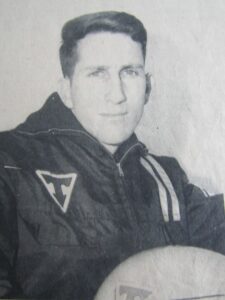 17-year-old Tim White's first win was on a 7 hp Ski-doo at the 1964 Lancaster Grand Prix! During the 1964/65 season, he began racing for the oldest snowmobile racing team in the history of the sport, "The Lancaster Snow Drifters!".
In 1966, now racing for Roberts Motors Racing in Class "B" White raced to a close 2nd in points at the Grand Prix, took two 1st place wins in St. Johnsbury VT, and grabbed two 1st and 3rd in Plymouth, NH!
Tim took a 1st, 3rd & 4th in Class "A" to win the 1968 Vermont State Championship, in St, Johnsbury, VT!
White was the first snowmobile racer in history to capture both the, Kawartha Cup and the Bourbon Cup in the same year, at the 1968 Laconia International, against Team Arctic's best drivers!
He raced his Class I, 250cc Ski-doo to win two more big trophies at one race by winning both the Paul Bunyan Open and the Maine Governor's Cup at Bangor Me. in 1969 racing a Cassady built, 1965 Rotax engine against others with much larger displacement engines, as well as the Ski-doo factory team!
Tim Began racing for Timberland Machines, "Big T" Ski-doo team in 1970, scoring 1st place wins at the Balsam's in Dixville Notch, NH, and Berlin, NH!
Timothy Gary White left the sport he so dominated in 1971, after a horrific unavoidable accident at the Lancaster Grand Prix, when another driver fell off his sled directly in White's path, severely injuring his fellow competitor. He continued racing for the remainder of the season, but the effects of that one trying event were just too much and he retired at season's end, taking along with it his amazing driving skills which produced some of the finest, most memorable moments in the rich history of this great sport!