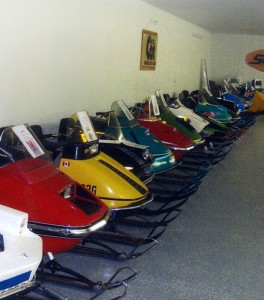 Crane's Snowmobile Museum is a place where visitors can see the evolution of riding through the years – from Ski-Doo machines first introduced in the 1960s, to the newer sleds of today.
Inside the museum are about 85 different snowmobiles with no duplications, and another 40 unique machines in storage.  Throughout the museum are machines from companies still in operation, such as Ski-Doo and Arctic Cat, and those from manufacturers of yesteryear, including Moto-Ski-later bought by Bombardier – and Rupp.
Some examples of the machines displayed are:
a 1972 Ski-Doo Elite
a 1963 Trail Bike combination bike and sled with a serial number of "4"
a 1962 Fox-Trac prototype
a First-Aid Sno-Cruiser Emergency Unit
a 1967 Scat Mobile
and the "pride and joy" of the museum, a late 1950s Boggana snowmobile built in Winnipeg
Along with the snowmobiles, there are also numerous vintage signs and other snowmobiling artifacts.