Hello friends, we hope you are healthy. After missing last year's event, we are looking forward to hosting the 2022 Vintage Snowmobile Show on February 5, 2022.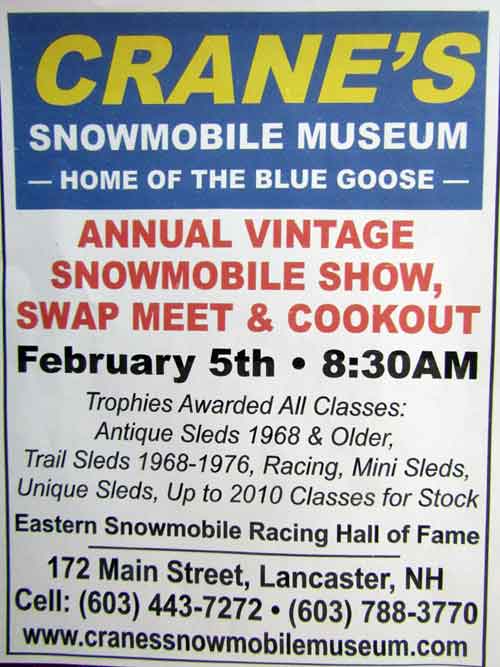 You can still visit the museum by calling (603)-443-7272 to schedule a visit.
Eastern Snowmobile Racing Hall of Fame

The Eastern Snowmobile Racing Hall of Fame Annual Inductee Ceremony
is held each year – We honor the Snowmobile Greats in the East at this event…
View the 2021 inductees here…..
The International Snowmobile Hall of Fame


Paul Crane has the distinction of being the first person to ride a Ski-Doo snowmobile in the United States back in 1959 and was inducted into the ISHOF! Read more here….
Read More About Crane's Snowmobile Museum on the NH Snowmobile Association website »
About The Museum:


Crane's Snowmobile Museum is a place where visitors can see the evolution of riding through the years – from Ski-Doo machines first introduced in the 1960s, to the newer sleds of today.

Inside the museum are about 100+ different snowmobiles with no duplications, and another 40 unique machines in storage. Throughout the museum are machines from companies still in operation, such as Ski-Doo and Arctic Cat, and those from manufacturers of yesteryear, including Moto-Ski, later bought by Bombardier – and Rupp.